Falls Creek and Hotham to Suspend Lift Operations, Perisher to Remain Open
After careful consideration of the new restrictions in Victoria due to the recent COVID-19 outbreak, Vail Resorts is suspending ski-lifting operations at Falls Creek and Hotham Ski Resorts, effective Thursday, 9 July through at least 19 August, consistent with the current stay at home directions for metropolitan Melbourne. We will continue to assess the situation and follow the guidelines of the state health authorities in evaluating if it is advisable or feasible to reopen. Perisher will remain open, operating in accordance with COVID-19 restrictions in NSW.
We recognise that this is incredibly disappointing news, especially to those of you who have made reservations at Hotham and Falls Creek this season. We assure you that we did not make this decision lightly as we know our employees, guests and the communities where we operate have already endured so much hardship this year. However, we are focused first and foremost
on health and safety, following local health guidelines and doing our part to support efforts across Victoria to address the recent rise in coronavirus cases.
Guests who purchased a 2020 Epic Australia Pass, who have not used the pass and who do not wish to proceed with their pass purchase, may obtain a refund by making a request here no later than Sunday 12 July. After the 12 July refund deadline, the 2020 Epic Australia Pass is non-refundable except as provided for under Epic Coverage and under Australian Consumer Law.
All lift ticket, ski and ride lesson and rental reservations and bookings will be cancelled and refunded. We will email guests directly today regarding the process to obtain refunds. We are currently experiencing significant delays in our call centres so we kindly ask guests to be patient as we process these refunds.
We thank you for your patience and understanding as we continue to navigate through this incredibly challenging time.
Request A Refund
COVID-19 has presented challenges to our guests, employees and communities. As a result, we are giving pass holders the option to request a refund of all payments made towards your 2020 Epic Australia Pass and Pass Refund Protection. You must request a refund prior to 12 July.
Vail Resorts' Commitment to Safety
To provide a safe experience for everyone, all skiers and snowboarders will be asked to cooperate with changed resort operations this season including:
Lift Tickets & Passes: Skiers and snowboarders will only be able to access the resorts with pre-purchased passes or lift tickets. Lift tickets will be available in limited quantities for advance purchase online, with on-the-day lift ticket purchases at the resorts not available until further notice. Resorts will limit daily lift tickets sales to provide physical distancing. Pass holders will require a reservation to access the mountain until 19 July and on weekends until further notice, but as the resorts fully open their terrain, reservations will not be required.
Lifts: Lift operations will run at reduced capacity to allow for physical distancing. Guests who live together will be allowed to ride lifts together, while others will be required to physically distance with reduced capacity by lift type.
Skitube: In order to provide physical distancing, resort transportation, including Perisher's Skitube, will be operating at reduced capacity with amended timetables. Guests must purchase their Skitube tickets online and in advance, as on-the-day purchasing will not be available. Skitube guests carrying luggage for overnight stays will be required to travel outside of peak operating periods.
Food and Beverage: With indoor physical distancing requirements in place, food and beverage options and indoor seating will be limited, but additional outdoor seating will be provided. In most cases food service will be limited to take-away, at least in the early season. Guests are encouraged to bring their own snacks and lunch to enjoy on the mountain. Most venues will be cashless for contactless payment. Depending on further easing of physical distancing guidelines as the season progresses, food and beverage facilities may gain more capacity and be able to expand services.
ActivitiesThere will be no tobogganing or Tubetown on offer at Perisher.
Snowsports School: Snowsports School programs will be limited with more programs being offered throughout the season as restrictions ease and offerings can be safely expanded.
Lodging: Hotels, apartments and lodges will operate at reduced capacity to ensure that physical distancing can be achieved in restaurants and common areas. For more information about hospitality reservations and protocols.

Guest Commitment To Safety
To enable safe resort operations, guests are requested to stay home if they are not feeling well or are considered high risk. To ensure the safest experience for everyone, guests will be asked to respect all protocols and respect physical distancing guidelines.
Physical Distancing Guidelines: Physical distancing will be provided at each resort, based on the amount of terrain and lifts open. Guests will be asked to respect 1.5metres of physical distance at all times in the ski area and at ski lifts, unless they are with a group that they live with.
Personal Responsibility : A safe snow experience is the responsibility of everyone. Guests are expected to adhere to government hygiene and physical distancing guidelines, in addition to the Alpine Responsibility Code, to provide a safe environment for everyone. The Australian Government is encouraging guests to download the COVIDSafe app to improve safety. You can find more information and download it here.
FIND OUT MORE IN YOUR RESORT
Find out more details about operations at Perisher, Falls Creek and Hotham below:
Epic Australia Pass for the 2020 Season
While terrain and lifts are limited during the early season ramp up, guests with a 2020 Epic Australia Pass, 2019-20 Epic Pass or 2019-20 Epic Military Pass will be required to make a reservation to access the resorts. Reservations will be required from opening day until 19 July and on weekends until further notice. Details on how to reserve your days will be shared here. As soon as we are able to open adequate terrain and lifts, you will enjoy your season pass access without the need for a reservation at Perisher, Falls Creek and Hotham. We fully recognise that a reservation system is new for our pass holders and we appreciate your understanding and willingness to help us ensure everyone's safety.
In order to manage resort capacity, Bring-A-Mate tickets will not be included with the 2020 Epic Australia Pass benefits. Additionally, the Epic Australia Pass Skitube add-on will no longer be offered as the Skitube will operate at reduced capacity and will require advance purchased tickets to allow for physical distancing. A full list of updated benefits are here. Guests who have purchased a 2020 Epic Australia Pass are encouraged to review these updated benefits carefully to ensure you understand the changes.
Epic Coverage for all Epic Australia Pass Holders
We know these are uncertain times and want to ensure that we are providing you both peace of mind about your Epic Australia Pass purchase as well as flexibility to make a choice about your commitment to the season ahead of opening day. We recognise the various impacts of COVID-19 on our guests and we are offering a refund in advance of the season if you do not want to continue with your pass.
Vail Resorts is also redefining Pass Refund Protection for 2020 by providing Epic Coverage to everyone who purchases an Epic Australia Pass. Epic Coverage, which is free for all pass holders, replaces the need to purchase Pass Refund Protection and provides refunds associated with certain personal events, including illness, job loss, and injury. It also expands coverage to provide refunds to guests for certain resort closures, including for resort closures due to COVID-19. Any guests who do not elect a refund by 12 July will be charged the final payment for your 2020 Epic Australia Pass.
After the 12 July refund deadline, the 2020 Epic Australia Pass is non-refundable except as provided for under Epic Coverage and under Australian Consumer Law. All guests will receive a refund of any Pass Refund Protection and Skitube add-ons purchased for the 2020 season.
Reservations
Due to continued low snowfall and less than normal availability of lifts and terrain at  Perisher, Vail Resorts announced today that access reservations for pass holders will be extended for the period 13-19 July until the resorts have sufficient lifts and trails open to ensure physical distancing for unreserved access during peak periods. Pass holder reservations will also be required for weekend access until further notice. Find out more here.
Pass access reservations are sold out for the period:
Until 19 July at Perisher
Your Pass Holder Options
Keep Your Epic Australia Pass
As a loyal pass holder we want you to be able retain your pass with peace of mind so we are including Epic Coverage for Free, terms and conditions apply.
In an effort to carefully manage social distancing requirements, there are changes to both the access and benefits offered. This includes changes to the following benefits:
6 Bring a Mate discounted invitations - not available
First Tracks - changes to scheduling
Perisher Skitube Season Pass Add-on - not available
Epic Australia Pass guests will be required to make a reservation to access the resorts prior to 19 July due to limited lifts and terrain in the season ramp up and the requirement to carefully manage resort capacity. Reservations will be available here.

New epic coverage free with your epic Australia Pass!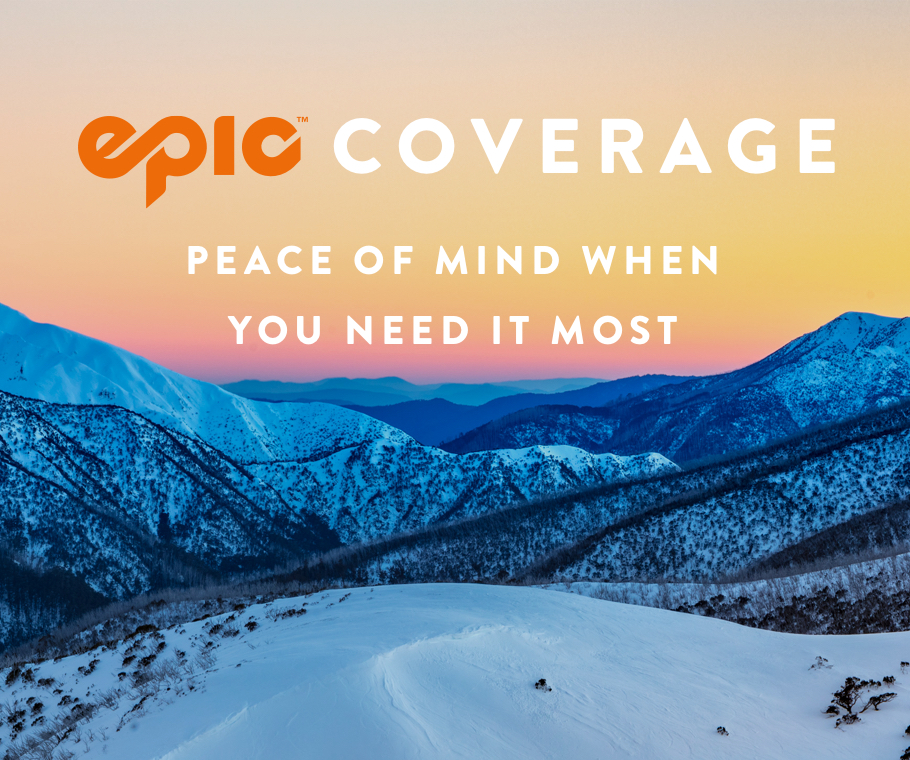 Free Epic Coverage for peace of mind, and more time to make your decision. Protection against:
Job loss
Certain resort closures (eg. COVID-19)
Injury
Falls Creek and Hotham to Suspend Lift Operations, Perisher to Remain Open!
For more information please visit our Epic Australia Pass Frequently Asked Questions: